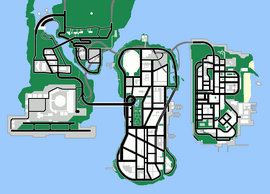 This is a list of the missions in Grand Theft Auto: Liberty City Prologue. The missions are broken down by location.
Back at Home
Old Times
Wise Guys
Clubs in the Club
Disco Fever
On the Streets
Scrap Metal
Junkyard Jam
American Steel
Do-It-Yourself
Money From Richard
Nice Bike...
You Can Keep It
American vs. Import
Burning Rubber
Less Than Nothing
Bell Bottom Blowout
Unfriendly Reunions
Make it Worthless
Chinatown Grove
Special Delivery
Making a Comeback
The Retreat
Staunton Island
Edit
New Place to Stay
A Different Kind of War
The Appetizer
Grocery Shopping
A Sundae Drive
The Artillery
Rock the Foundation
Alleyway Thunder
Dealing with Dealers
The Magician's Tricks
Faking Death
All For One
One For All
Sooner or Later
Tunnel of Tribulations
Going the Short Distance
New Waves
Son of a Bridge
Across the River
Shoreside Vale
Edit
I'm So Shore
The Airman
Coming From Above
New Kids in Town
Bleak and Blue
Third Time's the Charm
Refusal
Storming the House
Wichita Gardens Gunfight
You Should Have Learned
Money Can Buy It
Dam Kids
Plans on a Blueprint
Cab Drivers
Peers on the Piers
Face the fear
Troubles Back Home
Final Mission Strand (Portland)
Edit
Betraying Us
Teaming Up
Backstabbers
Money Grows on Greed
FINAL MISSION: Doing it the Hard Way
Ad blocker interference detected!
Wikia is a free-to-use site that makes money from advertising. We have a modified experience for viewers using ad blockers

Wikia is not accessible if you've made further modifications. Remove the custom ad blocker rule(s) and the page will load as expected.